Building for the Future
"The Lord has done great things for us, and we rejoiced." Psalm 126:3.
We have always been good stewards of what God has given us. When our first log building burned down in what is now Blendon Township, our congregation dug the nails out of the ashes to build anew. We also have consistently cared for the current 102-year-old church building. While our current structure has served us well, it is time to update it for accessibility and consistency with what is expected in a modern building.
Our current First Presbyterian Church building was constructed in 1913 with an $8,000 loan from the Presbytery and generous donations from the congregation – which often came in five cent- to- one dollar gifts.
In 1951, we began a capital campaign that ended in 1954 with the addition of what we now know as the Education Wing.
More than 60 years later, our church has aged and our world has changed, though our mission to it remains as strong as ever. Today, we are called again to restore our facilities, renew our vision and reach out in joyful giving and building, for now and for the future.
Building Plan
In 2014, the Session selected SEM Architects to consider our vision for both the church building and the nearby Annex, a former doctor's office. The 2015 Capital Campaign focused on our immediate needs with a total funding goal of $1.45 million. Special gifts received before the campaign formally began totaled $650,000, giving us a significant head start that continues to be felt.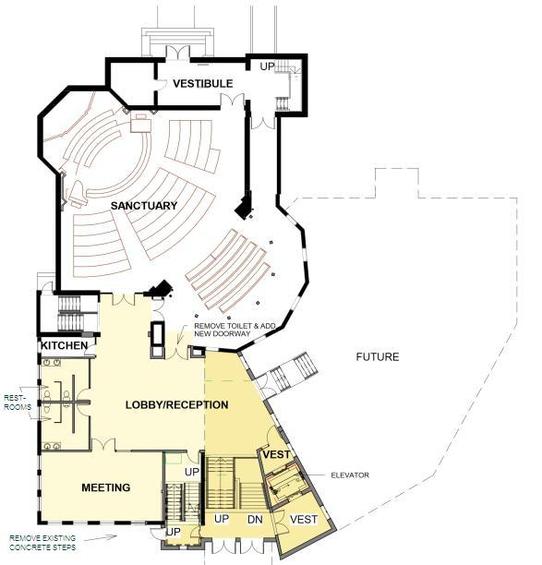 The 2015 Capital Campaign will allow us to modernize a number of aspects of our church. Our church will benefit from:
Our current capital campaign will allow First Presbyterian Church to begin construction in the spring of 2017 and fulfill the mission to which we are called. By investing now, we lay the foundation for future generations.
Pardon Our Dust
While construction is underway, we will have to make accomodations and move event locations as necessary.
During construction primary access will be via the front and Knox St. doors. The elevette will remain in operation until its replacement -- our new elevator -- is operational. Greeters will be at these three access point on Sundays to assist any who need access. On week days the primary entrance will be the Knox St. entrance.
For the time being, one rest room will be available on each level. All restrooms will now be unisex to accommodate everyone as conveniently as possible.