Discovery Zone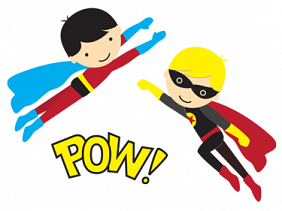 Today, everyone wants to be like their favorite super hero. Wonder woman, Superman, Batman, Spiderman, Storm, Wolverine, and Super Girl all hold a special place in our hearts. We want to embody their mission to make the world a better place and to embolden young minds to reach for the starts. DC and Marvel comics give us some of the most amazing role models to emulate, but these stories were not the first in the history of human kind.
The Jewish and Christian texts reveal a wide range of amazing heroes who displayed super strength, bravery, and powers beyond what the people of their time could understand. This year, our Discovery Zone youth program will explore these "super" heroes and how we can relate to them in our everyday lives.
Due to the construction on our building we will start later in the year and go later. We will start November 1st and meet every Wednesday (unless school is canceled for weather or holidays). There will also be something new this year. A study period for completing homework and getting some tutoring will be available at 4:30pm. The program will commence at 5pm with activities, music, Bible study and dinner.
Parents please feel free to join us for dinner at 6:30pm. There is no cost, but we do ask that dinner donation of $1.50 per person be given to cover the cost of the food. We look forward to seeing you and your young people in November.
For more information, contact Heather Hicks, Youth & Family Ministry Director or Rev Mark Gauen.