Ring Our Bell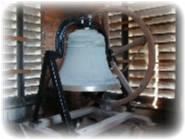 First Presbyterian Church of Westerville is one of the few local churches whose bell tower is not merely an architectural statement. We have a real bell up there!
As part of the Westerville Fourth Fridays community block party held on the fourth Friday of each month, April through September in Uptown Westerville, the church will again be open to welcome visitors to ring our bell. A popular activity for kids of all ages, pulling the rope to ring our bell is a thrill your won't want to pass up.
If you are in Uptown Westerville for the block party on a fourth Friday this summer and hear our bell, just follow the sound to give it a try!
We will be open for you to ring our bell the Fourth Fridays in May, June, July & August from 6:00-8:00 PM.