Jesus And Me
Sunday Mornings during Worship Service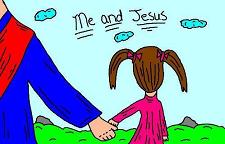 Jesus and Me (JAM) is our Sunday School program for children in Kindergarden thru 5th grade. J.A.M. is a great opportunity for the children of our church to learn more about God.
All children are welcome in Worship which includes a Children's Focus -- a message just for them. Following this children may go to JAM, upstairs in the youth room. Parents can pick their children up there after worship.
This year, we are teaching stories from the beginning to the end of the Bible in their written order. Please bring your child(ren) to share in this fun time learning together.
J.A.M meets only on the 2nd, 3rd, and 4th Sundays of every month so the children can participate in worship and see how we do things during communion on the first Sunday. This is an important part of learning what it means to be Christian.
We also have worship bags for the children during Worship. Within each bag is a coloring book for non-readers and a worship book with pages for readers to follow along with the service.
We hope that you and your family will find this helpful as we work together to show the young people of our congregation what it means to follow Christ and accept His love. May God bless you. We look forward to seeing you and your child!