Walk to Jerusalem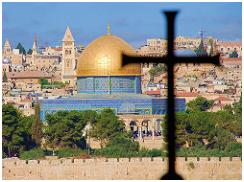 The Health Ministry has been working hard finding ways for our congregation to get and stay healthy. Last year we took an virtual walk to Jerusalem by Easter with time and miles to spare. The program was so popular that we decided to do it again.
lf you are interested in making the journey with us, please add your name and email address to the sign up sheet ln the 'sign up binder' in the Gathering Place. From January 12, until Easter keep track of all the miles you walk, run, hike, swim or the time you exercise. Weekly mileage may be logged on the chart that will be posted on Sundays or email your progress to Linda Backus.
As we add all the miles together, we should reach Jerusalem by Easter Sunday, April 12. Participants will be getting a weekly devotion as well as a geography lesson about each of our stops along the way.
If you have any questions contact Linda Backus, Bonnie Moses or Kim Hunt.