CROP Walk
Sunday Oct. 11, 1 p.m. - 2 p.m.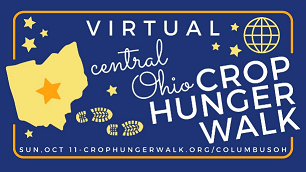 This year, because of the pandemic, our annual CROP Walk for Hunger will be a VIRTUAL/ACTUAL "walk" with joint participation by several Worthington and Westerville churches. We have joined the Westerville CROP Walk each year for 33 years since 1987.
Many more families have been getting groceries from food pantries in Central Ohio because of the pandemic. 25% of our money will go to WARM in Westerville. The need is so very great this year! We have set a goal of raising $3000 this year from our congregation and hope each of you who are able will make a contribution. Your assistance will help provide meals through WARM. The remaining money we raise will go for Church World Service for food relief, self-development of local farms and economies, and refugee relief in developing countries. We have had a recent flood of refugees from many countries.

Become a virtual walker or walk physically. Call or email people you know, tell them about CROP and what the money will be used for, and ask them if they if they will sponsor you and make a contribution to CROP. The easiest way for them to participate is to send a check made out to "Westerville First Presbyterian Church" and note on the check who they are sponsoring and that the donation is for CROP. You may sponsor "All Walkers if you wish.

To be a walker, please call Bob Place (614-882-7232) before September 16 to get further information. If you are a virtual walker, that is great. As a virtual walker, you will be walking with us in spirit. If you want to physically walk, you may walk where ever you wish on your own, with your family or with a small group of friends (masks, safe distance, less than 10 people). Tell your supporters that you are promising to walk at least X miles on one or several combined walks between now and October 11 (which was the date the CROP Walk would have been held this year.)
If you wish to make a donation online directly to CROP instead of directly to our church, just follow these steps on how to do that. The church will get credit for it.
Just go to WESTERVILLE CROP Walk using your internet browser to find the joint website for the WESTERVILLE/WORTHINGTON CROP Walk or click HERE.
Then click on the REGISTER button and register yourself as a walker for the Westerville Presbyterian Church team, then follow the prompts.
If you have any questions regarding this process please call Bob Place (614-882-7232). If he is not available, call Olivia at the office (614-882-3155). She can direct questions to Bob when Bob and Mary are out of town (in Atlanta).

Thank you in advance for your participation in whatever way you are able.