St. Paul's AME Men's Chorus
Sunday Oct. 9, 4 p.m. - 5 p.m.
GOSPEL CONCERT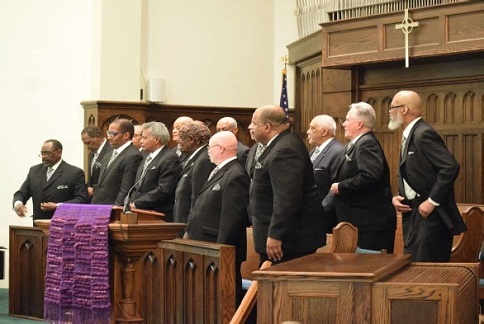 First Presbyterian Church will host the St. Paul's AME Male Chorus on October 9 in a free concert!
This chorus is in its 54th year at the historical St. Paul AME Church, 639 E. Long Street in Columbus, under the leadership of Pastor Monre' Meyer. The St. Paul Male Chorus is 12 members strong and sings 4-part harmony which includes tenor, 2nd tenor, baritone, and bass. They will be singing a cappella spiritual, contemporary, and gospel songs. One of their most memorable occasions was performing at the Columbus Convention Center when the great poet Dr. Maya Angelo was the guest speaker. She requested a recording of the song they performed.
This chorus shared their music with us back in 2019, and we are excited to have them back.
Please join us for an afternoon of great music followed by a dessert reception.