Steve Ball Concert
Sunday Feb. 18, 4 p.m. - 6 p.m.
Musician Performer & Historian
Concert with Potluck Dinner following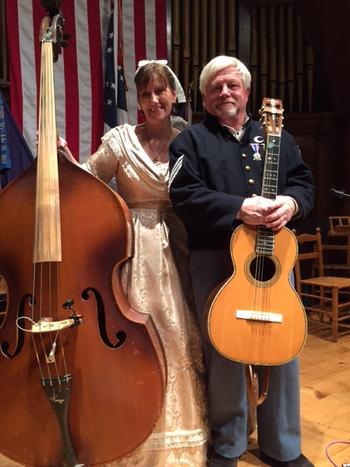 Steve Ball, from Columbus, specializes in the music of the American Civil War and the music and life of Stephen Foster. Steve has studied the American Civil War since his teens and has devoted the past twenty years to studying the music of this era in American history. He has also performed for many years for a variety of groups all around the United States. He presents several programs, but ours will focus on the Civil War presentation since it ties in with our Westerville history. This program will connect with Ohio, as well asWesterville's history, through the music of Benjamin Hanby.

It is easy to understand why Steve developed an interest in the Civil War. His great-great-grandfather was a Union private who joined the 73rd Ohio Volunteer Infantry Regiment and was with General Sherman on the "March to the Sea," even though he had been badly wounded previously. A personal note of interest: Steve has built a collection of Civil War era guitars, as well as a large collection of Civil War era sheet music.

CIVIL WAR PRESENTATION
This presentation features tunes starting in the mid 1850's that would become important regarding the climate of the country before the war began in 1861. As the presentation unfolds, there will be patriotic songs cherished by both sides, a singalong, and finally tunes that reflected the loss and melancholy the war would produce. The history and influence of each tune is shared, as well as the progress of the war itself. Several members of our congregation have seen
and enjoyed Steve's performances. He is joined by his wife Lisa's vocal harmonies and her accompaniment on the string bass. Our audience is sure to be moved and entertained by their performance. For more information, see his website: https://www.steveballcivilwarm...

** Please bring a DISH TO SHARE for the potluck **
Please SIGN UP BY FEBRUARY 11
so that we may plan seating and table settings